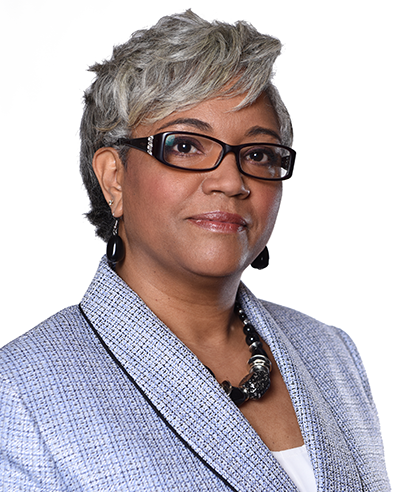 Janine L. Bradley
Janine L. Bradley was born in Brooklyn, NY and raised in St. Albans, Queens, NY. She is a graduate of Jamaica High School and it was at Jamaica High School that she experienced the struggle of attending night school to recover enough credits to graduate on time with her graduating cohort.
Although she thought she hated school and would never return, she learned quickly the value of having a college degree. She started her college career at CUNY York College as an Elementary Education Major, however realized that her connection and passion were geared more toward adolescents.
Janine likes to jokingly say that, "life got in the way" so it took her 17 years to complete a four year degree. She actually took time off to dedicate to her husband and five children, and move successfully through the corporate world, before going back to complete her degree. Janine transferred to CUNY Queens College where she majored in English and received a Bachelor of Arts.
Janine changed careers and began teaching at Uniondale High School in 2005. She received her Master of Science in Secondary Education with a concentration in English Language Arts at CUNY Queens College. And she has been at Uniondale since.
In 2014 Janine was awarded the Master of Science in Educational Administration and accepted the position of Assistant Coordinator of the Uniondale Summer School Program. The following fall she accepted the position of Coordinator/Principal of the Uniondale Alternative High School Program and maintains that program while teaching during the day.